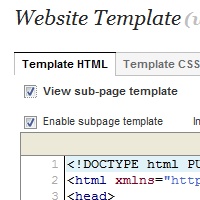 Templates Part 11: Setting up a sub-page template
Some designs call for a separate sub-page template, and some don't. For example, simple layouts that use a header, a menu below that, the page content and then a footer may not need a separate template for sub-pages.
Sites with more elaborate designs may require a sub-page template and rave7 makes it easy to manage your sub-page template right in the editor with the main home page template.